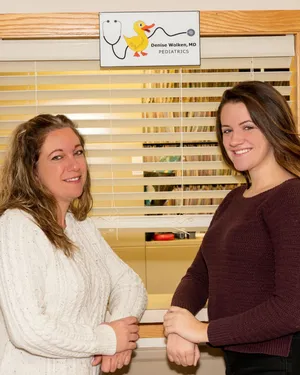 We are excited that you have chosen Denise Wolken MD Pediatrics for your child's medical care. Your comfort and convenience are our priority, and we strive to make every visit to our office a positive experience. To help you get acquainted with our office and first visit procedures, we ask that new patients please take the time to read through our website to learn a little bit about us. We recommend that you start with Are We a Good Fit For You? It will take you through some of our primary policy and procedures.
Please review the list of insurances we are currently accepting and have your insurance card information ready when you register.
Registration
Registering your child to be a new patient at Denise Wolken MD Pediatrics is quick and easy through our Patient Portal (click here)
As a parent you can set up the family portal account. Since you don't have a username and password, you will need to go to the right hand side of the page to Need an account/Lets get started. The email address you enter will be your username that connects your family to our office. Choose your password for your family portal.
Once registered on the patient portal, your submission will be added to a waiting list for review. You can call on the next business day and make your first appointment. You will be receiving a confirmation email when you are registered as a new patient. This confirmation email will include a form to request medical records from your previous provider.
If you did not register in the patient portal but prefer to fill out a registration form on paper, download, print and fill out this registration form. You can mail it into the office or use the information on the form to register to be a new patient over the phone 315-991-4180. Authorization Form to Transfer Medical Records will be given to those who are accepted as new patients at their initial visit.

Quick Checklist of items to bring for your child's first visit with us:

Vaccination Records
Insurance Card
Credit/Debit/HSA card for billing purposes (See Credit Card on File Policy)
Medical Records that you have from the previous pediatrician's office (We will have a parent sign for release of medical records form at check-in)
A PARENT must accompany a child under age 18 years old to their first visit in our office as there are forms that must be signed by a parent.
Credit Card on File Policy

Denise Wolken MD Pediatrics is committed to making our billing process as simple and easy as possible. We ask that all patients provide a credit card on file with our office. We will scan your card with a card reader. It will store your card number in a secure location in your electronic medical record. For security reasons only the last four digits will be visible to our staff. Credit cards on file will be used to pay copays when you are seen in our office, including account balances after your insurance processes your claim.
Expecting a new baby?
Visit our Expecting page!
We look forward to meeting you and your child and providing the quality, comprehensive medical care you expect and deserve.